Main content starts here, tab to start navigating
Make this holiday season one to remember by hosting your corporate & social gatherings at RARE650.
Treat your guests to a unique dining experience with the finest grades of USDA 45-day prime dry aged steaks, delectable sushi, and the freshest seafood all perfectly prepared by our award-winning culinary team. Finally, compliment your meal with a bottle of wine from our expansive list which features vintages from around the globe.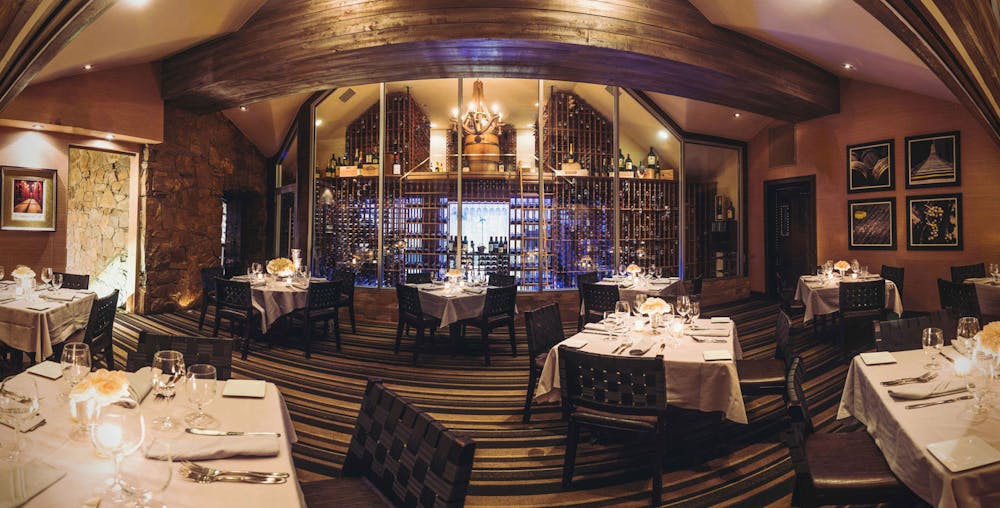 Hors D'oeuvres
Passed Butler Style
Accompaniment to any lunch or dinner package
Ahi Tuna Wonton Tacos

With mango slaw & avocado créme

Maine Lobster Salad

On chilled cucumber

Pulled Chicken & Avocado Taco

Mini Crab Cake

With chipotle aioli

BBQ Duck Empanada

Ginger plum dipping sauce

Franks en Croute

Wagyu Sliders

Wasabi

Parmesan Truffle Risotto Bites

Coconut Shrimp

With sweet chili mango dipping sauce

Roasted Poach Pears

With blue cheese mousse, roasted walnut on crostini

Mini Grilled Cheese

White cheddar, applewood smoked bacon & sun-dried tomato

Beef Negimaki

With teriyaki sauce

Strachiatella & Cherry Tomato Crostini

Topped with balsamic pearls

Baby Baked Potatoes

With sour cream and caviar

Lobster Spring Roll

With asian slaw & teriyaki dip

Shrimp & Avocado on Crisp

Smoked Salmon Shallot Cream Cheese

Pumpernickel, créme fraiche, chive stick

Baby Lamb Chops
Platinum Cocktail Party
Cocktail Hour
Passed Hors D'oeuvres
Choice of 6
Ahi Tuna Wonton Tacos

With mango slaw & avocado créme

Maine Lobster Salad

On chilled cucumber

Pulled Chicken & Avocado Taco

Mini Crab Cake

With chipotle aioli

BBQ Duck Empanada

Ginger plum dipping sauce

Franks en Croute

Wagyu Sliders

Wasabi

Parmesan Truffle Risotto Bites

Coconut Shrimp

With sweet chili mango dipping sauce

Roasted Poach Pears

With blue cheese mousse, roasted walnut on crostini

Mini Grilled Cheese

White cheddar, applewood smoked bacon & sun-dried tomato

Beef Negimaki

With teriyaki sauce

Strachiatella & Cherry Tomato Crostini

Topped with balsamic pearls

Baby Baked Potatoes

With sour cream and caviar

Lobster Spring Roll

With asian slaw & teriyaki dip

Shrimp & Avocado on Crisp

Smoked Salmon Shallot Cream Cheese

Pumpernickel, créme fraiche, chive stick

Baby Lamb Chops

*We only serve dry-aged prime steaks*
Sushi Display
Grand Plateau of Assorted Sushi

Sashimi & Hand Crafted Rolls
Dinner
Carving Board

Host Selects 2

Filet Mignon, Leg of Lamb, Roast Turkey, Organic Ora King Salmon

With roasted potatoes, dinner rolls and creamed spinach

Pasta

Host Selects 1

Truffle Mac & Cheese, Pasta Primavera, Penne A La Vodka

Salad

Host Selects 1

RARE650 Salad

Traditional Caesar Salad

Fresh Mozzarella & Beef Steak Tomato
Dessert Tasting
Mini Desserts & Fresh Fruit
Beverages
Soda

Iced Tea

Sommelier Selected Wines & Draught Beer Included
Gold Cocktail Party
3 Hours Consisting of
Passed Hors D'oeuvres
Choice of 6
Ahi Tuna Wonton Tacos

With mango slaw & avocado créme

Maine Lobster Salad

On chilled cucumber

Pulled Chicken & Avocado Taco

Mini Crab Cake

With chipotle aioli

BBQ Duck Empanada

Ginger plum dipping sauce

Franks en Croute

Wagyu Sliders

Wasabi

Parmesan Truffle Risotto Bites

Coconut Shrimp

With sweet chili mango dipping sauce

Roasted Poach Pears

With blue cheese mousse, roasted walnut on crostini

Mini Grilled Cheese

White cheddar, applewood smoked bacon & sun-dried tomato

Beef Negimaki

With teriyaki sauce

Strachiatella & Cherry Tomato Crostini

Topped with balsamic pearls

Baby Baked Potatoes

With sour cream and caviar

Lobster Spring Roll

With asian slaw & teriyaki dip

Shrimp & Avocado on Crisp

Smoked Salmon Shallot Cream Cheese

Pumpernickel, créme fraiche, chive stick

Baby Lamb Chops

*We only serve dry-aged prime steaks*
Sushi Tower
Assortment of Sushi

Sashimi & Handcrafted Rolls
Dessert Bar
Pastry Chef Selection of Mini Desserts & Fresh Fruit
Beverages
Soda

Iced Tea

Sommelier Selected Wines & Draught Beer Included
Silver Dinner Menu
First Course
Spicy Tuna Roll

Fresh Mozzarella & Beefsteak Tomato

Traditional Caesar Salad

RARE650 Salad

Mixed baby greens, strawberries, candied pecans, crumbled goat cheese, strawberry vinaigrette
Entrée Course
Filet Mignon

With mashed potatoes

Roasted Organic Chicken

With mashed potatoes

Organic Ora King Salmon

With roasted corn

Chilean Sea Bass

With sautéed broccolini & herb butter

Marinated Char-Grilled Skirt Steak

With mashed potatoes & crispy onions

Special Sushi Roll

*We only serve dry-aged prime steaks*
Dessert
New York Style Cheesecake

Chocolate Mousse Cake

Häagen-Dazs Ice Cream or Sorbet
Gold Dinner Menu
First Course
Shrimp Cocktail

Spicy Tuna Roll

Fresh Mozzarella & Beefsteak Tomato
Second Course
Traditional Caesar Salad

RARE650 Salad

Mixed baby greens, strawberries, candied pecans, crumbled goat cheese, strawberry vinaigrette
Entrée Course
Sirloin Steak

With mashed potatoes

Filet Mignon

With mashed potatoes

Roasted Organic Chicken

With mashed potatoes

Organic Ora King Salmon

With roasted corn

Chilean Sea Bass

With sautéed broccolini & herb butter

Special Sushi Roll

Seared Sea Scallops

With risotto

Marinated Char-Grilled Skirt Steak

With mashed potatoes & crispy onions

*We only serve dry-aged prime steaks*
Dessert
New York Style Cheesecake

Chocolate Mousse Cake

Häagen-Dazs Ice Cream or Sorbet
Platinum Dinner Menu
Cocktail Hour
Passed Hors D'oeurves & Top Shelf Cocktails
Choice of 6
See hors d'oeurves menu for selections
First Course
Shrimp Cocktail, Spicy Tuna Roll

Fresh Mozzarella & Beefsteak Tomato
Second Course
Traditional Caesar Salad

RARE650 Salad

Mixed baby greens, strawberries, candied pecans, crumbled goat cheese, strawberry vinaigrette
Entrée Course
Sirloin Steak

With mashed potatoes

Filet Mignon

With mashed potatoes

Roasted Organic Chicken

With mashed potatoes

Organic Ora King Salmon

With roasted corn

Chilean Sea Bass

With sautéed broccolini & herb butter

Special Sushi Roll

Seared Sea Scallops

With risotto

Marinated Char-Grilled Skirt Steak

With mashed potatoes & crispy onions

*We only serve dry-aged prime steaks*
Dessert
Chocolate Lava Cake

New York Style Cheesecake

Häagen-Dazs Ice Cream or Sorbet